IMPLEMENTATION TO EARLY INTERVENTION PROGRAMS TO IMPROVE ACTIVITY DAILY LIVING SKILLS FOR CHILDREN WITH VISUAL IMPAIRMENTS
Keywords:
Early intervention, children with visual impairments, Activity Daily Living
Abstract
Parenting children with visual impairments from birth is a tough challenge for the family. Besides the impairments in the aspect of vision, emotional, language development and the delay in the Activities of Daily Living (ADL) skills are also impairments that are often experienced by children with visual impairments. This study aims to form a mobility orientation-based early intervention program that is used to improve children's skills in ADL. The research method used is Quantitative Experiments with the design of Single Subject Research (SSR). The target behavior is that children can walk independently using a stick. This study was divided into two stages of research. The first stage is a preliminary study to determine the objective conditions of children and parents as well as the potential they have in implementing interventions, followed by the design of early intervention programs that will be validated by early intervention experts. In the second stage, namely the implementation of the program by intervention experts who also coordinated with parents followed by the implementation of the program. The results in this study indicate an increase in the independence of children in ADL skills at SKh Al-Kautsar, Cilegon, Banten after being given the ability of Mobility Orientation. The increase is in accordance with the average value of the target behavior (can walk independently using a stick) the average obtained in Phase A1 (Baseline 1) 33.3%. In Phase B (Intervention) an average of 76.3% was obtained. Then the average gain in Phase A2 (Baseline 2) is 52.7%.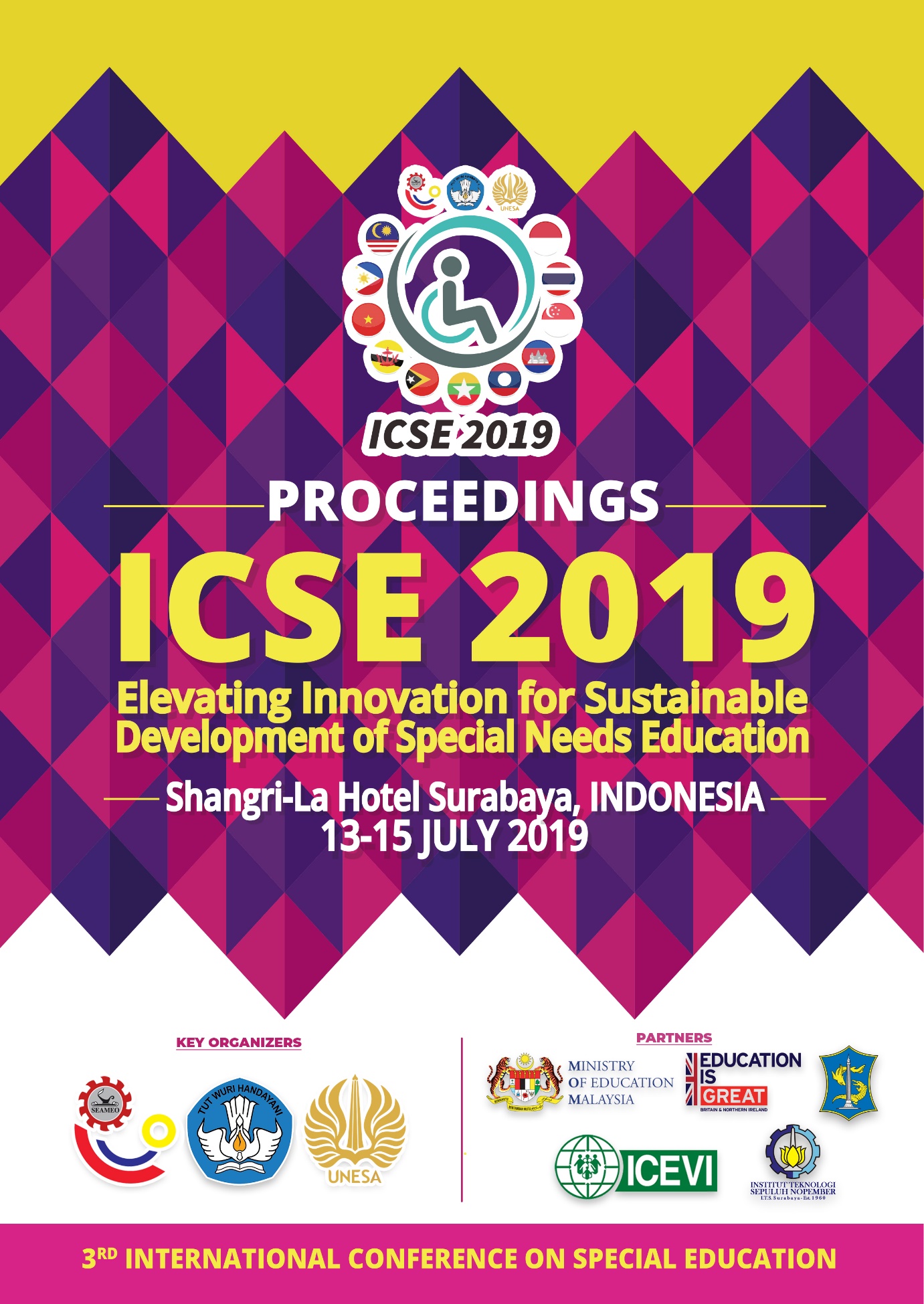 Downloads
How to Cite
Murniati Romadhoni Sukmady, Siti Asiah Rohmah, Tri Fitria Ningsih, Muhammad Harkat Hardi Miharja, & Ratih Listyaningtyas. (2019). IMPLEMENTATION TO EARLY INTERVENTION PROGRAMS TO IMPROVE ACTIVITY DAILY LIVING SKILLS FOR CHILDREN WITH VISUAL IMPAIRMENTS. Proceedings of International Conference on Special Education, 3. Retrieved from https://publication.seameosen.edu.my/index.php/icse/article/view/203
License