IPGKPT DESIGN AND TECHNOLOGY (RBT) TEACHER TRAINEES' KNOWLEDGE TO HANDLE SPECIAL NEEDS STUDENTS IN INCLUSIVE EDUCATION
Keywords:
Inclusive education, special needs students, trainee teachers, hands-on activity
Abstract
The importance for teachers in inclusive classrooms to have knowledge and skills in the management of student behavior has been reported in several studies. An effective teacher in an inclusive classroom is a teacher with high self-efficacy in handling students who have behavioral issues in their classroom. The pre-service teacher training of the Institute of Teacher Education Malaysia (IPGM) emphasizes on behavior management through several courses offered and enrichment activities outside of the lecture rooms. In this regard, several courses such as EDUP3023 Child Development, EDUP3043 Classroom Management and Behavior and also RBTS3132 Inclusive Education have been offered to expose trainee teachers to the knowledge in handling students with special needs for IPGM students who are not majors in special education. This concept paper on a descriptive quantitative study to be conducted to see the level of knowledge of trainee teachers, especially RBT major in one of the Institute of Teacher Education, Technical Education Campus (IPGKPT) on handling special needs students in inclusive education in schools. The methodology that will be use in this study involve questionnaires of a total 63 respondents of IPGKPT Semester 6 students who have studied the all three courses. The knowledge of RBT trainee teachers in handling MBK is anticipated to be in a high range as these three subjects involve many hands-on activities that require more control from the teachers during teaching and learning sessions.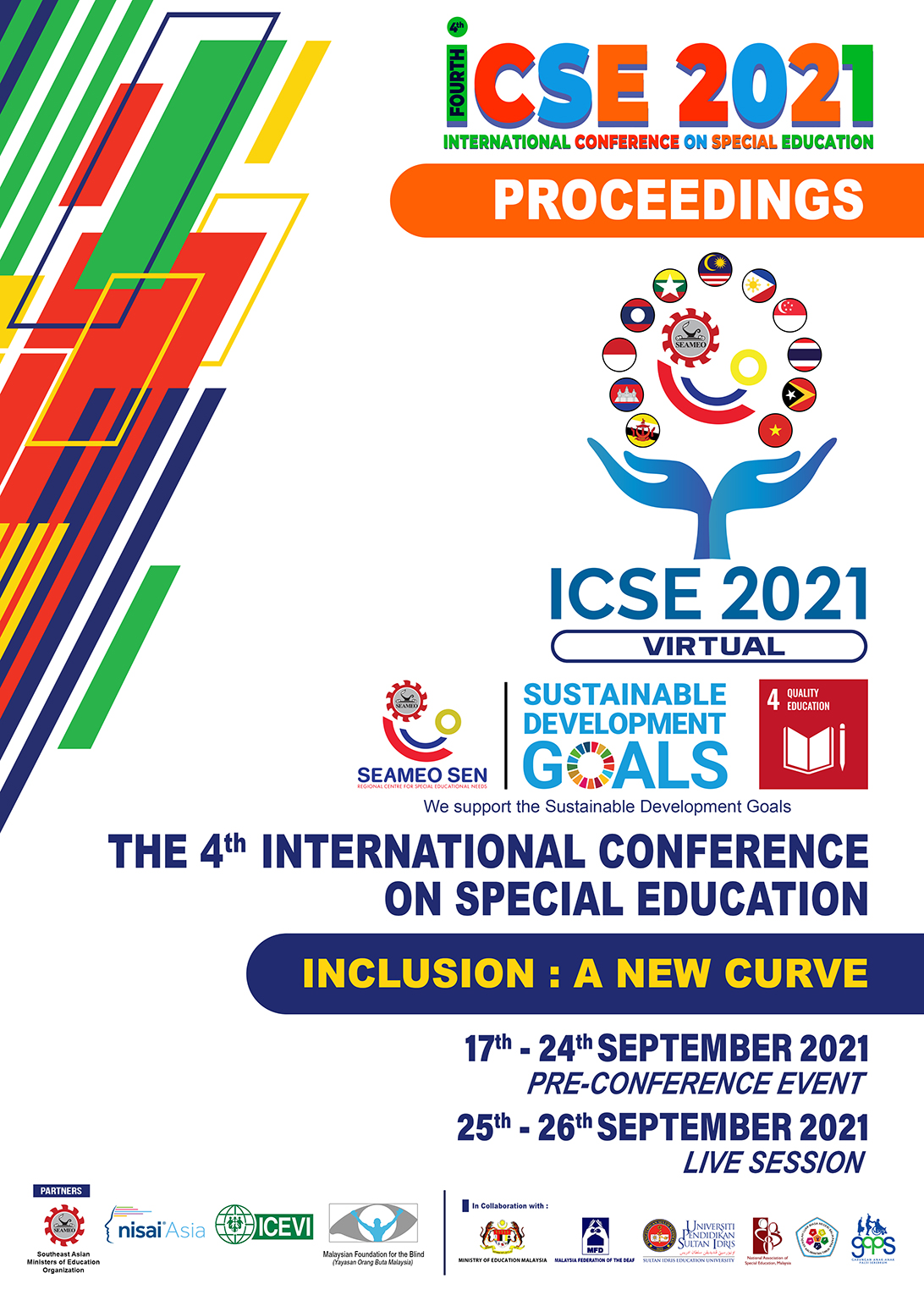 Downloads
How to Cite
Nik Farah 'Aqilah Binti Nik Mahadi, Nur Qayyimah Binti Mohd Zubaidi, Hanani Binti Harun Rasit, & Shamsiah Binti Md Nasir. (2021). IPGKPT DESIGN AND TECHNOLOGY (RBT) TEACHER TRAINEES' KNOWLEDGE TO HANDLE SPECIAL NEEDS STUDENTS IN INCLUSIVE EDUCATION. Proceedings of International Conference on Special Education, 4. Retrieved from https://publication.seameosen.edu.my/index.php/icse/article/view/230
License