HOW PARENTS OF CHILDREN WITH VISUAL IMPAIRMENT AND MULTIPLE DISABILITIES SUPPORT EACH OTHER DURING THIS TIME OF THE PANDEMIC IN THE PHILIPPINES
Keywords:
parents of children with disabilities, children with multiple disabilities visual impairment (MDVI), support groups, empowerment, COVID-19
Abstract
The global response to Coronavirus Disease 2019 (COVID-19) has changed daily life in many ways for many people. In the Philippines, schools remain closed and stay-at-home orders went into effect nationwide. The struggles faced by parents of children with visual impairment with or without multiple disabilities have amplified. Supporting the bond between parents or caregivers of these children is as important as ever. This discussion aims to answer the question about how parents of children with visual impairment with or without multiple disabilities from different parts of the Philippines, support each other as they learn to adapt and meet their children's needs as well as maintain their own mental health and relationships. We discussed the methods on how this support group, managed and run by parents themselves, build parent advocacy skills and self-efficacy skills as they cope during these times of the pandemic. We shared what activities were carried out despite the challenges this lockdown has brought and how these activities still allow families to regularly engage with each other and become present supporters of their children's development as they help them thrive and learn during this pandemic. We discussed the value of support groups and identify recommendations for support group design based on the experiences and feedback of the parents from the Philippines. Qualitative methods was used to examine the experiences of members of 1 parent-run support group. 30 parents were interviewed about the benefits and limitations of participation in support group. Information was collected by observing support group meetings, activities, and reviewing group documents. Interview, observation, and document data was analyzed to identify emerging themes. Results of the study indicated that the effects of belonging to a parent-led parent support group were substantial. Through these groups, parents gain increased skills, an increased sense of power and a sense of belonging. Participants are able to connect with each other and provide support and skills to deal with the day-to-day issues of raising a child with disabilities.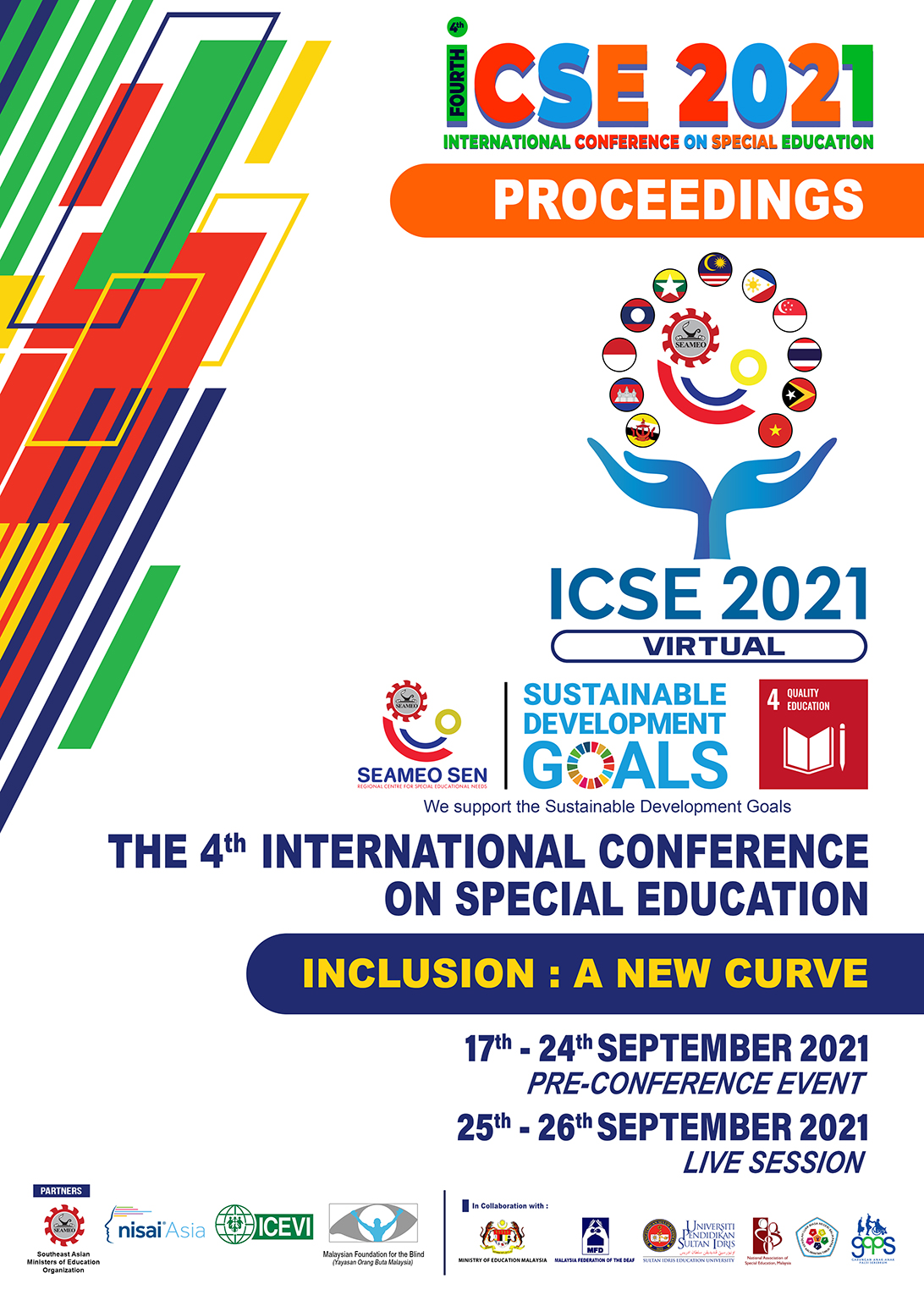 Downloads
How to Cite
Ami Tango-Limketkai. (2021). HOW PARENTS OF CHILDREN WITH VISUAL IMPAIRMENT AND MULTIPLE DISABILITIES SUPPORT EACH OTHER DURING THIS TIME OF THE PANDEMIC IN THE PHILIPPINES. Proceedings of International Conference on Special Education, 4. Retrieved from https://publication.seameosen.edu.my/index.php/icse/article/view/231
License