ADDRESSING THE NEEDS FOR TEACHERS' PROFESSIONAL DEVELOPMENT AMIDST THE COVID-19 PANDEMIC
Keywords:
teacher training, COVID-19, SEAMEO SEN, quality education
Abstract
Learners with disabilities are among the most impacted group of children if not the most vulnerable compared to their peers of the same age. They are exposed to the risk of being left behind in society, employment as well as their participation in education. Shortages of trained teachers and school personnel in implementing the concept of Inclusive Education in many countries have led to the increase challenges and delay especially in preparing learners with disabilities to be accepted and participate in the real world. Envisioning and responding towards achieving United Nation Sustainable Development Goals (SDGs) specifically SDG No.4 "Ensure inclusive and equitable quality education and promote lifelong learning opportunities for all", SEAMEO 7 Priority Areas No. 2 "Addressing Barriers to Inclusion" and the previous statements and declaration regarding Inclusive Education, SEAMEO SEN has always aligned its roles to be at the forefront of Disability-Inclusive education advocacies, teachers' competencies development, quality content creations and community awareness. Responding to these commitments, targeted researches were carried out to understand, learn and provide recommendations addressing to the needs of learners with disabilities. Training needs analysis and impactful training courses, workshops, seminars and conferences were also held in directing and harnessing teachers' potential. This paper explicates SEAMEO SEN responses in promoting and enhancing the quality of special educational needs practices among its member countries including its responses during the COVID-19 pandemic situation. This paper further explores the programmes and activities conducted by SEAMEO SEN and how the centre adapts to respond to the current challenges.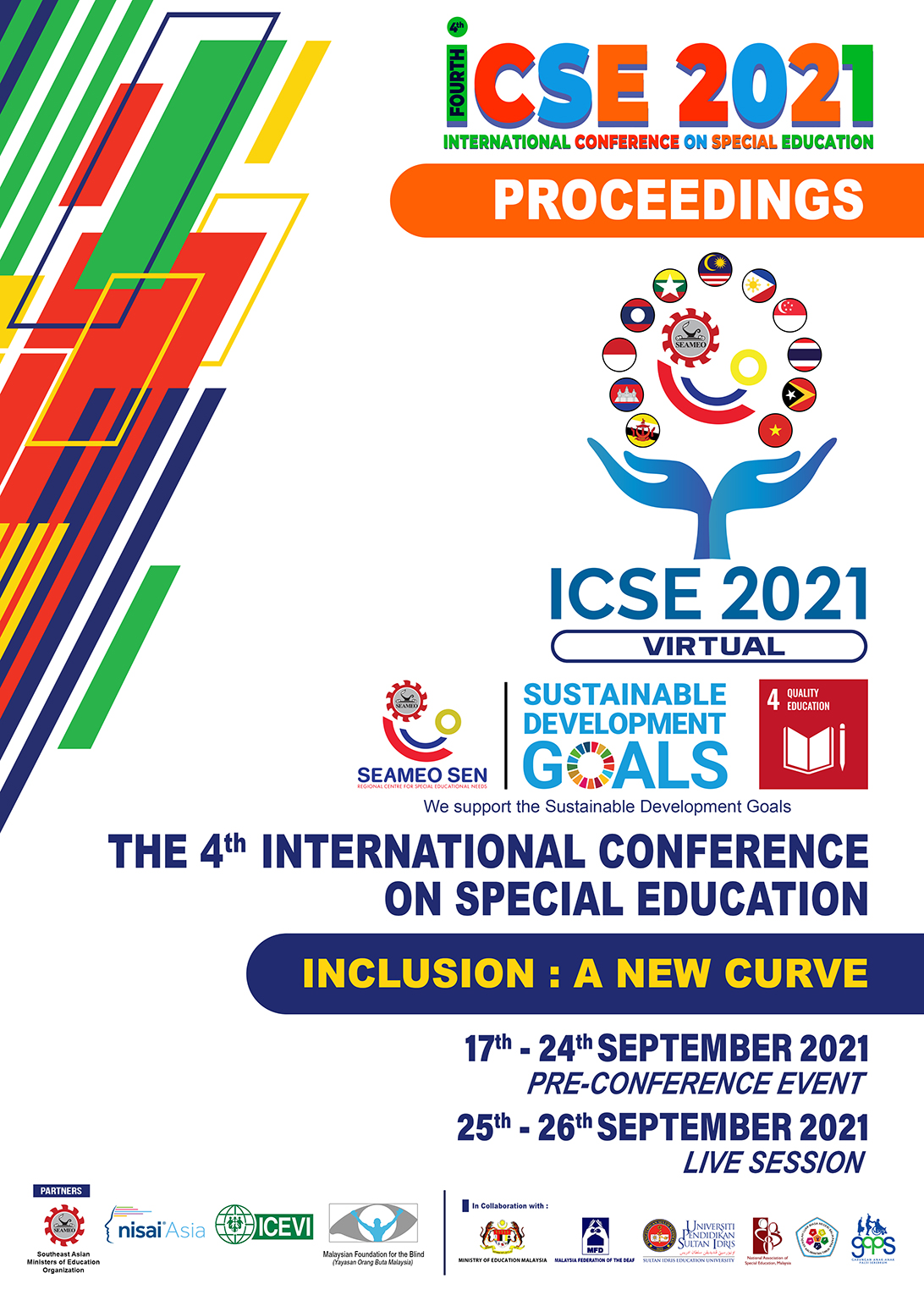 Downloads
How to Cite
Mohd Zulkarnain Abdul Wahab, & Hanani Harun Rasit. (2021). ADDRESSING THE NEEDS FOR TEACHERS' PROFESSIONAL DEVELOPMENT AMIDST THE COVID-19 PANDEMIC. Proceedings of International Conference on Special Education, 4. Retrieved from https://publication.seameosen.edu.my/index.php/icse/article/view/232
License