AN INDEX ON DISASTER PREPAREDNESS AMONG SPECIAL EDUCATION LEARNERS OF GENERAL MAXIMINO HIZON ELEMENTARY SCHOOL IN THE TIME OF COVID-19
Keywords:
Disaster Risk Reduction, Special Education, Learners with Disabilities, Parents of Learners with Disabilities
Abstract
Disaster Risk Reduction is one of the most important deliberations globally. It is deemed important that everyone adheres to the Philippine government mandates in its Republic Act 10121- Philippine Disaster Risk Reduction and Management Act of 2010. The ongoing COVID-19 pandemic has confirmed the close link between health and disaster risk reduction (UNDRR, 2021). With the aim to achieve the substantial reduction of disaster risk and losses in lives, our school designed an Index on Disaster Preparedness that geared toward empowering the 4 Pillars of Disaster Risk Reduction with better understanding among our most vulnerable learners and their families. This descriptive research features the Index designed on Disaster Preparedness among Special Education learners of General Maximino Hizon Elementary School in the time of Covid-19 is a program initiative inspired by the School Disaster Risk Reduction Management and was designed explicitly for the learners with disabilities and their families. Eighty-seven (87) learners with disabilities and their families attended a webinar that highlights and enhance the integration of disaster risk reduction on building resiliency, stewardship, and empathy towards a safe, adaptive, disaster-ready families and communities; manage health and related risks including for disease outbreaks, which is a key example of a multi-sectoral approach to disaster risk management.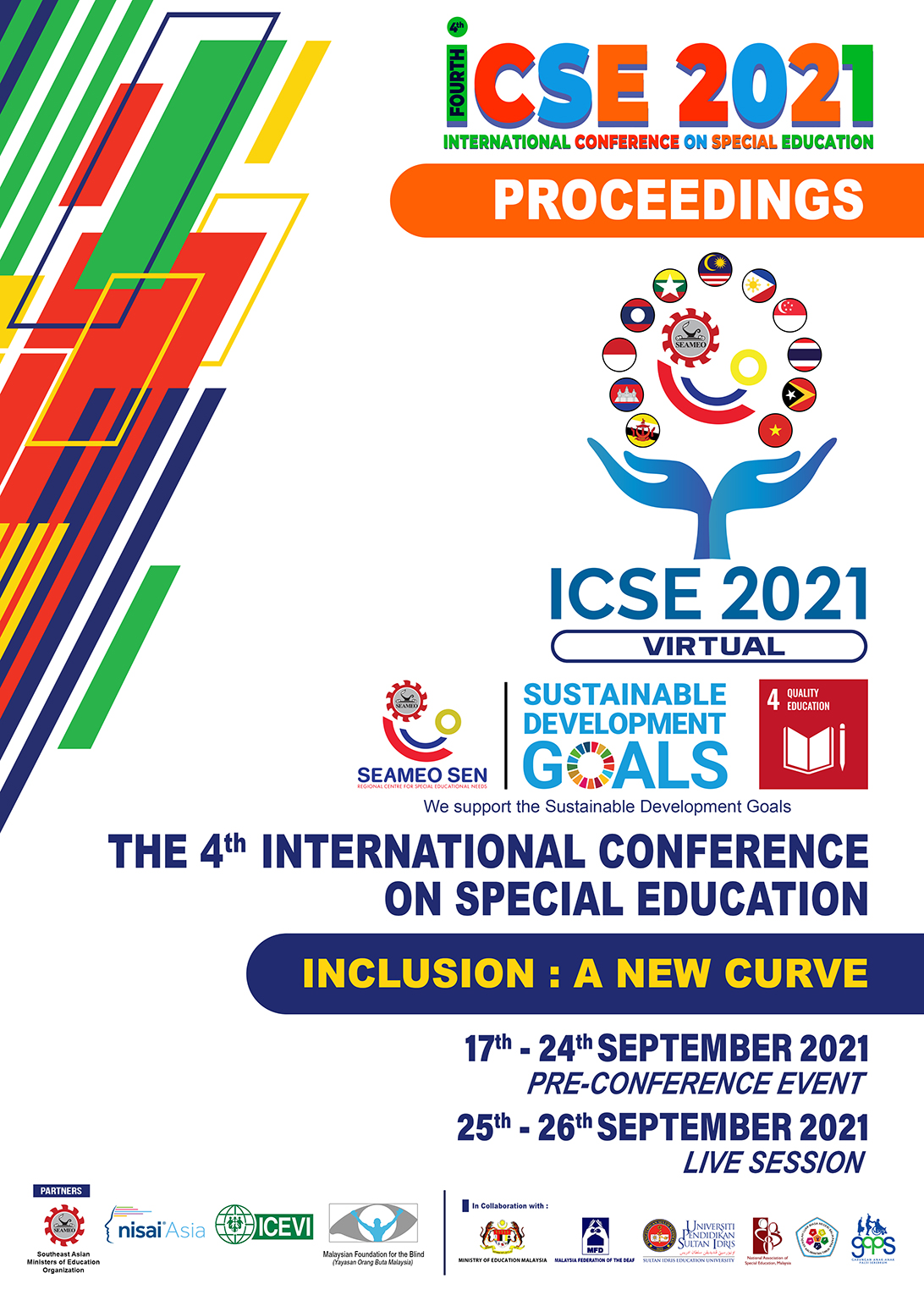 Downloads
How to Cite
Lea B. Galvez, John Paul R. Timbas, & Jonna A. Quillopas. (2021). AN INDEX ON DISASTER PREPAREDNESS AMONG SPECIAL EDUCATION LEARNERS OF GENERAL MAXIMINO HIZON ELEMENTARY SCHOOL IN THE TIME OF COVID-19. Proceedings of International Conference on Special Education, 4. Retrieved from https://publication.seameosen.edu.my/index.php/icse/article/view/236
License