DEALING WITH CHILDREN WITH DISABILITIES DURING COVID 19: UNDERSTANDING PARENTAL PERSPECTIVES
Keywords:
Covid-19 pandemic, Bonding, Parents, Affect, Behavioural Change, Perspective
Abstract
Parents of children with disabilities often appear to experience considerable stress and weakened emotional-well being. It is likely that the anxiety and emotional state of the parents are further exaggerated due to disrupted schedules of their children with disabilities during COVID 19 pandemic because of long-term school closure. The study aims to understand parental perspectives of dealing with children with disabilities during COVID 19 pandemic with an emphasis on the parent-child bonding. Fifteen parents and caregivers of children with disabilities participated in this qualitative study through semi-structured telephonic interviews. They were asked questions about behavioural changes of their children as well as bonding between themselves during this pandemic. Interview data were transcribed verbatim and thematic analysis technique was performed through manual coding. The findings of this study reveal that, significant behavioural changes of children with disabilities including increased restlessness, anger, fear, stress, hyper-activity, unwillingness to participate in academic as well as daily living activities, lack of motivation and concentration, significant learning loss, increased tendency of self-harming have occurred during covid-19 outbreak. The parent-child bonding seems to be highly affected (e.g. decreased quality time span & loss of parental patience during joint attention) by children's behavioural changes occurred due to school closure. Overall, the study finds that the emotional wellbeing of parents of children with disabilities and their bonding with their children have been unfavourably impacted by COVID19 pandemic. The study recommends that access to therapeutic services to support children with special needs can minimize the adverse effect of this lockdown. In addition, provision of expert wellbeing support for parents is also recommended.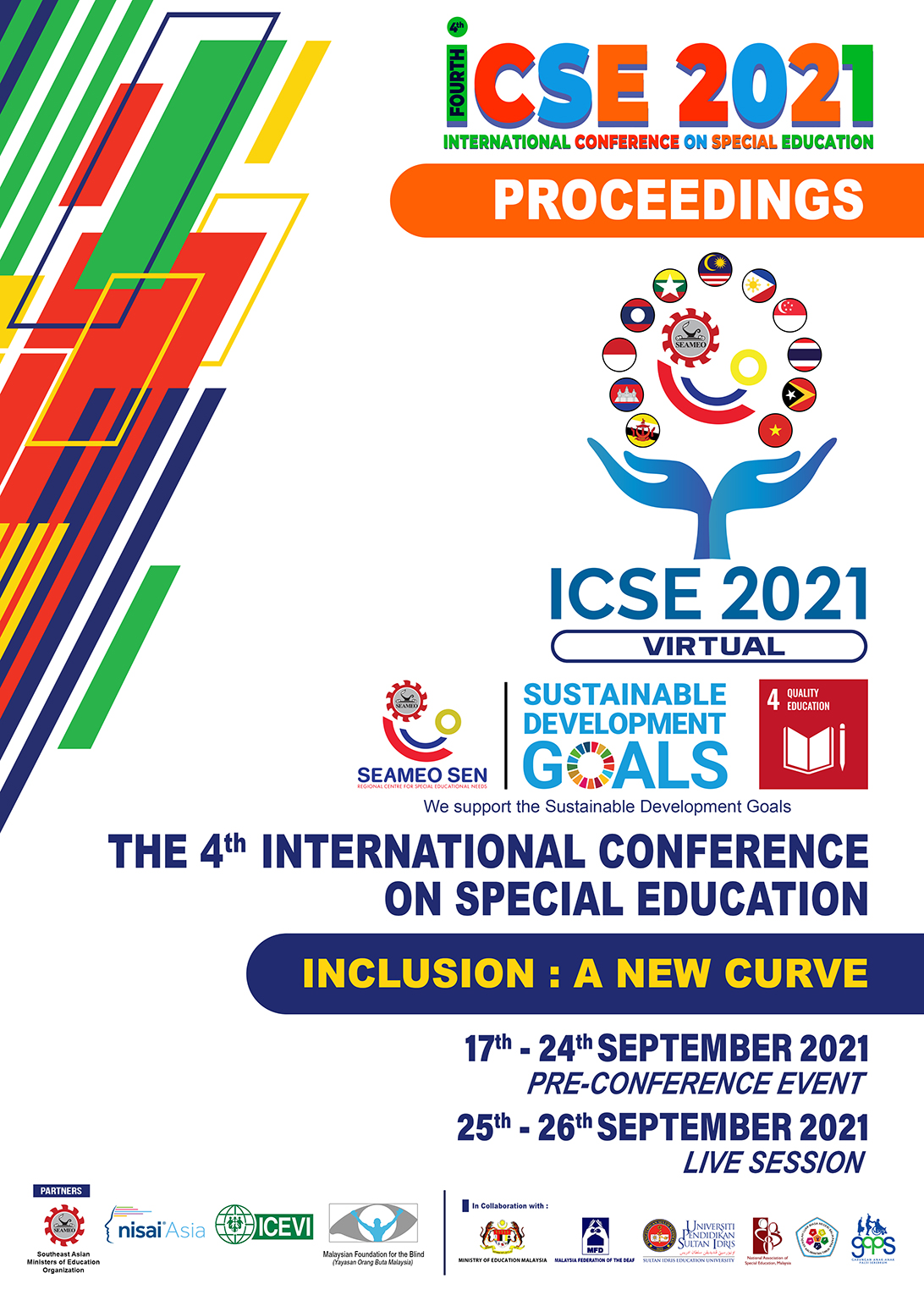 Downloads
How to Cite
Sariya Shabnam, & Farha Hossain. (2021). DEALING WITH CHILDREN WITH DISABILITIES DURING COVID 19: UNDERSTANDING PARENTAL PERSPECTIVES. Proceedings of International Conference on Special Education, 4. Retrieved from https://publication.seameosen.edu.my/index.php/icse/article/view/237
License