THE EFFECTIVENESS OF I-FLASH CARD IMPROVING THE MEMORY OF COMMON SURAHS OF FORM 2 SPECIAL NEEDS STUDENTS IN SMK KALUMPANG
Keywords:
Memorize, pique interest, digital process, slow learner
Abstract
The aim of this study was to see how successful the use I-Flash Card in helping students in the Special Education Program in the Islamic Education subject in memories and recital the verses memorized from the Al-Quran in common surahs. This research included a total of 2 students in special need as participants. The first step in action planning was to recognize students who struggle in memorizing and reciting memorized common surahs with minimal errors in pronunciation. This research also aims to ensure that students are not bored during the learning process and to encourage students to memorize the Quran's surah. This research was carried out using diverse teaching methods and resources by using Interactive Flash Card, a digital process that replaces the previous handmade cards (traditionally). Sentences are typed on a computer with using MS Word and the card's background are made colourful. Each card includes sentences that have been cut short based on the student's skill. The respondents were given a pre-test and post-test. The result of the study (post test) showed that 2 students were able to memorize the traditional surahs more effectively after the intervention. As a result using I-Flash Card in the classroom is successful in enhancing students' memorizing and reciting with minimal errors in pronunciation once it is introduced.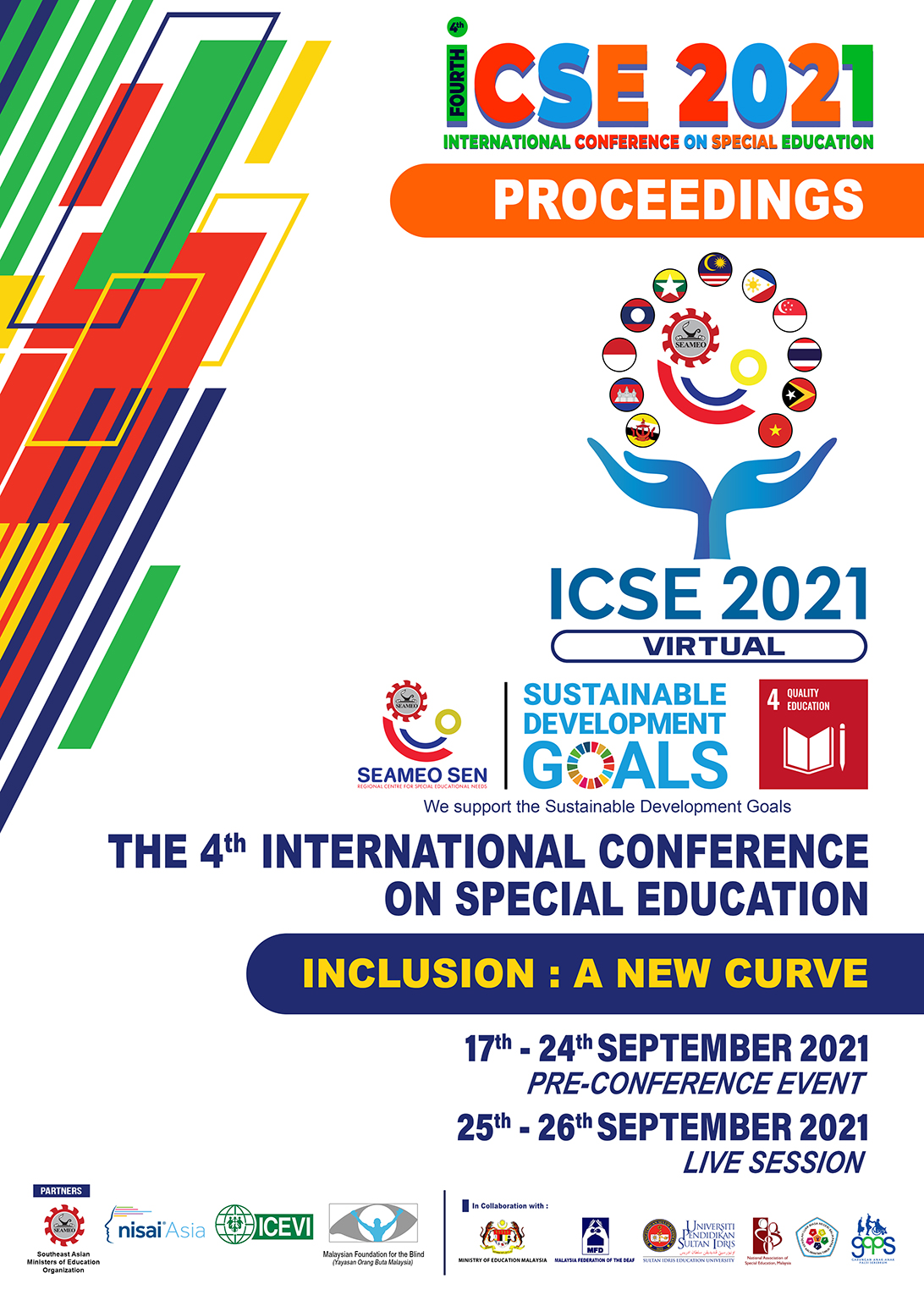 Downloads
How to Cite
Muhammad Bin Yusoff, Siti Zaihasrah Anis Binti Mohd Zan, & Sujatha D/O Veeriah. (2021). THE EFFECTIVENESS OF I-FLASH CARD IMPROVING THE MEMORY OF COMMON SURAHS OF FORM 2 SPECIAL NEEDS STUDENTS IN SMK KALUMPANG. Proceedings of International Conference on Special Education, 4. Retrieved from https://publication.seameosen.edu.my/index.php/icse/article/view/247
License