FACTOR ASSOCIATED WITH TEACHER EFFICACY TOWARD INCLUSIVE PRACTICE IN INDONESIA: THE ROLE OF PERCEIVED SCHOOL SUPPORT AND DEMOGRAPHIC VARIABLES
Keywords:
Teacher Efficacy, Perceived School Support, Inclusive Education
Abstract
Numerous countries have implemented inclusive education to enhance students' special needs participation in education, including Indonesia. Each stakeholder involved has their responsibilities to create successful inclusive practice. However, many obstacles emerge in implementing inclusive education due to teachers' belief that they cannot teach special needs children, which is defined as teacher efficacy in inclusive practice. This study investigated the factor associated with teacher efficacy in inclusive practice, specifically in Indonesia's inclusive primary school. Through quantitative analysis, this research aims to find out the relationship between perceived school support and demographic factors, such as gender, age, type of school, teaching experience, level of education, and training experience towards teacher efficacy. The measurement used in this study were PSSIE (Perceived School Support for Inclusive Education) (Ahmmed, 2013) and TEIP (Teacher Efficacy for Inclusive Practice) (Sharma et al., 2012). Using the convenience sampling technique, 324 inclusive primary school teachers from 15 provinces in Indonesia participated in this study. The result shows that perceived school support have a significant and positive relationship with teacher efficacy in inclusive practice (F(1, 322) = 129.978, p < .001, R2 = .54). In terms of demographic factors, teacher efficacy is associated with age, type of school, level of education, and training experience. It can be concluded that teachers will have efficacy in teaching inclusive classrooms if they receive adequate support from the school, both physically and emotionally. In addition, middle-aged teachers, who work in inclusive private schools, have a high educational qualification, and have received training tend to have more efficacy in inclusive teaching.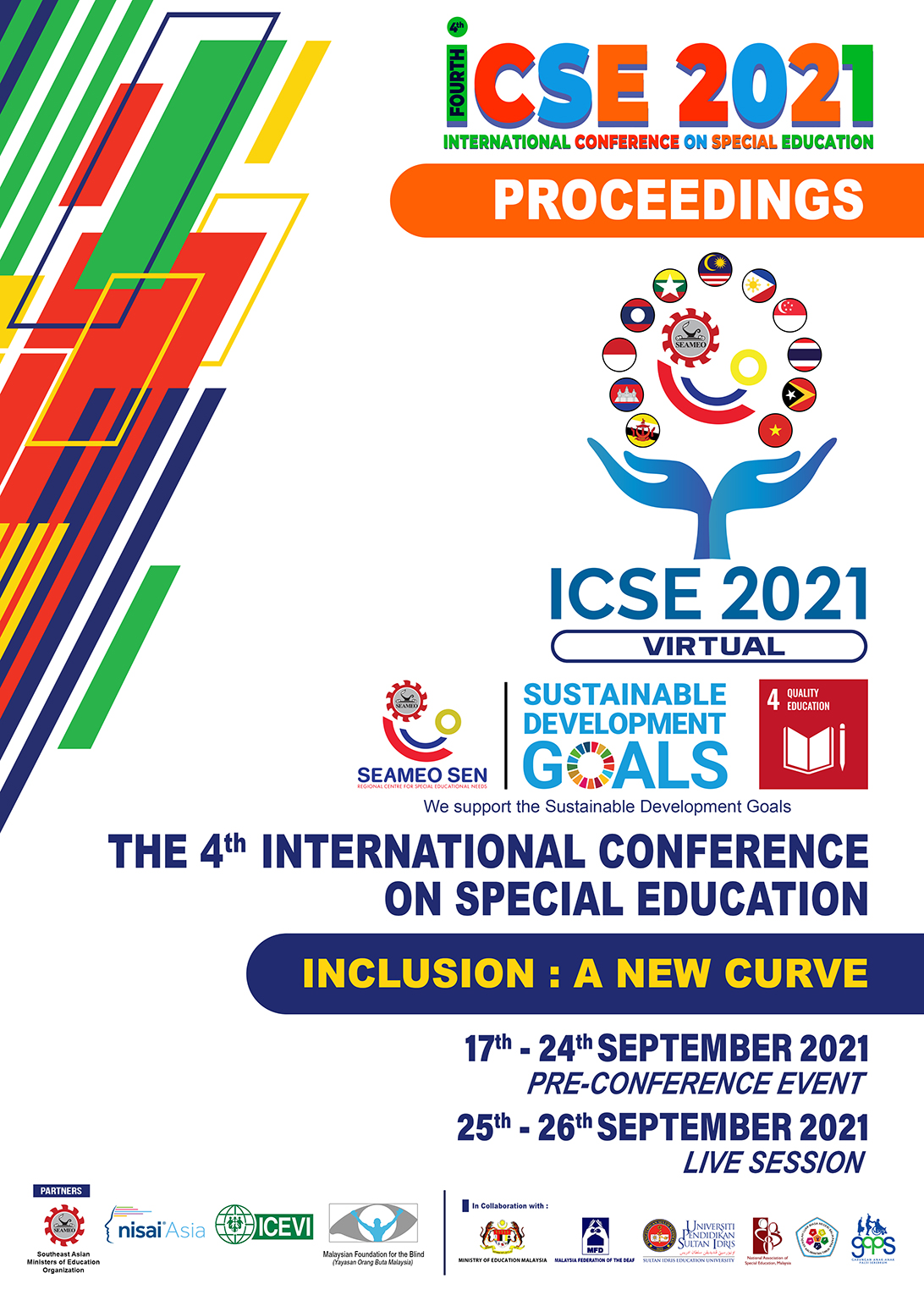 Downloads
How to Cite
Putu Wirmayani, & Farida Kurniawati. (2021). FACTOR ASSOCIATED WITH TEACHER EFFICACY TOWARD INCLUSIVE PRACTICE IN INDONESIA: THE ROLE OF PERCEIVED SCHOOL SUPPORT AND DEMOGRAPHIC VARIABLES. Proceedings of International Conference on Special Education, 4. Retrieved from https://publication.seameosen.edu.my/index.php/icse/article/view/226
License