INCLUSIVE EDUCATION IN MALAYSIA'S PRIMARY SCHOOLS: THE TEACHERS VIEW
Keywords:
Inclusion, Inclusive education
Abstract
Malaysia, like many countries in the world, is recognising inclusive education and has pledged a commitment in the 2013-2025 Malaysia Education Blueprint. However, the journey of providing a quality and inclusive education for all is complex, leading to inconsistency in practice. The Malaysia context with its diverse ethnicity, language, culture, religion besides the education and school systems have implications for the promotion and implementation of inclusive education. This study explores and highlights teachers' relevant yet overlooked perspectives on inclusion and inclusive education in the period of educational system reformation. By focusing on teachers' perspectives, the research aims to provide a better understanding of the promotion of inclusive education in Malaysia's primary schools. This interpretative, exploratory, qualitative study employed multiple methods to obtain rich and in-depth data. Participants are purposely sampled from five national primary schools: three schools with the Special Education Integration Programme (SEIP) and two schools without SEIP. They were 76 participants; 25 teachers were interviewed individually and 51 participated in eight focus-group interviews. Ten classroom observations were conducted prior to the individual interviews. The data were analysed thematically by the inductive approach, using NVivo software. Theories of inclusive education were adopted to analyse teachers' responses. The results show that teachers view inclusive education as a challenging concept to implement. Such views are influenced by multiple factors, such as miscommunication between departments, sociocultural attitudes to disability, educational systems, inefficient utilisation of resources, insufficient facilities, and teachers' lack of knowledge and skills about special education and pupils with special educational needs (SEN). The findings will be of value to those responsible for planning and developing the policy and programmes regarding inclusive education, special education, and specifically educational systems in moving towards inclusive systems and schools.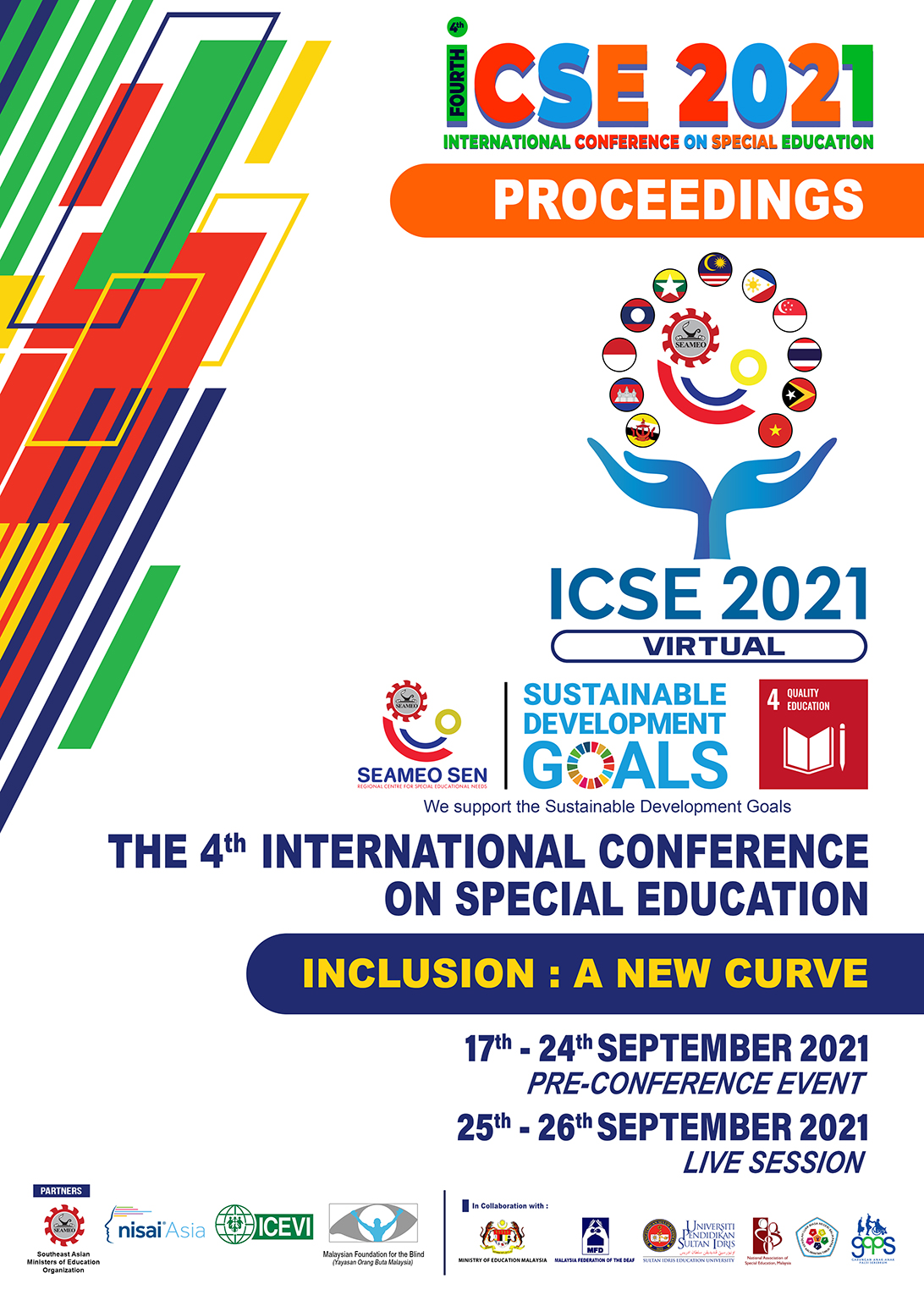 Downloads
How to Cite
Rosmalily binti Salleh, & John Woollard. (2021). INCLUSIVE EDUCATION IN MALAYSIA'S PRIMARY SCHOOLS: THE TEACHERS VIEW. Proceedings of International Conference on Special Education, 4. Retrieved from https://publication.seameosen.edu.my/index.php/icse/article/view/233
License