THE DEVELOPMENT OF AQUAEXPLORERS MODULE FOR SPECIAL EDUCATION TEACHERS IN PENANG: A PILOT STUDY
Keywords:
Special Education, teachers, aquatic activities, modules, knowledge, confidence
Abstract
Background Although an aquatic activities such as swimming and hydro therapy is a common activities in Special Education classes in Penang, there are no one specific module that can be used as a guidance for that activities which contributed to an activity without objectives and goals Aims This study aimed to discover the effect of Aquaexplorers Module implementation on the knowledge and self-confidence of Special Education Teachers in Penang. The limitations of this study is to test this module during a pandemic. Methodology 17 Special Education (Learning Disability) teachers in Penang participated in a three day course on Aquaexplorers Module implementation. A pre-test consist of a questionnaire was given before the course begin to see the baseline of the teachers current knowledge and confidence in handling water activities and a post-test using same questionnaire was given after the course ended. The questionnaire is validated by Cohen Kappa validation test. Result A Chi Square test showed that the level of knowledge and confidence of the Special Education teachers in the post-test were significantly increased (M= 46.11, SD = 3.230) after the implementation of Aquaexplorers module compared to the pre-test score (M= 33.11, SD = 2.208). Simplified yet more suitable instructions, objectives and activities in a module can be used to improve the Special Education teachers knowledge and confidence in handling water activities. Future research can focus on improving the of Aquaexplorers Module for Special Education Teachers based on the suggestion from this pilot study.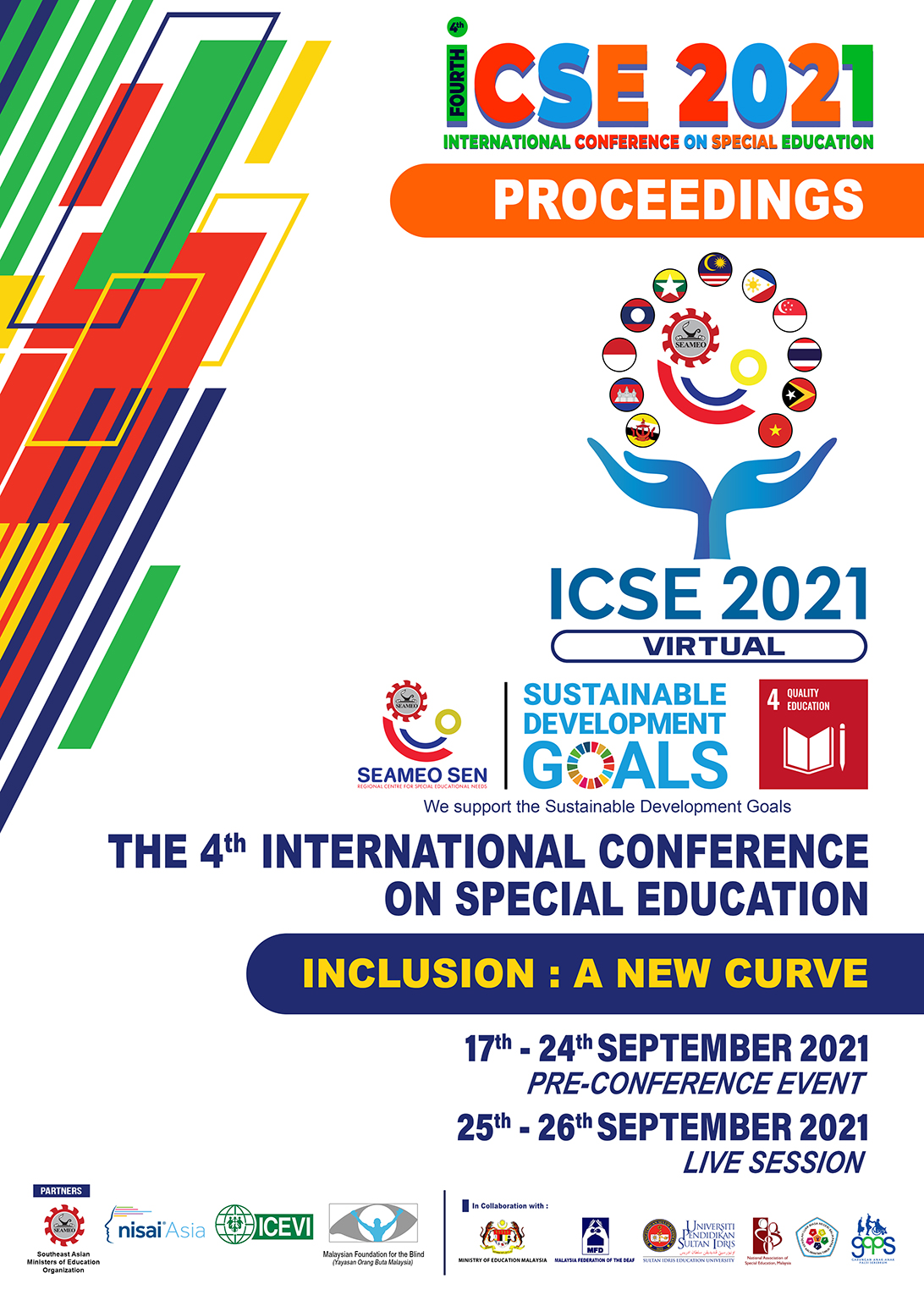 Downloads
How to Cite
Nur Amalina Samsudin, & Aznan Che Ahmad. (2021). THE DEVELOPMENT OF AQUAEXPLORERS MODULE FOR SPECIAL EDUCATION TEACHERS IN PENANG: A PILOT STUDY. Proceedings of International Conference on Special Education, 4. Retrieved from https://publication.seameosen.edu.my/index.php/icse/article/view/238
License