"STAR TRACK" PROJECT: ATTRACTING SPECIAL NEEDS STUDENTS TO ENGAGE IN SPORTS ACTIVITIES AND IMPROVING THE INTERPERSONAL SKILLS THROUGH SPORTS ACTIVITIES
Keywords:
fitness test, interpersonal skills, Special Need Students
Abstract
The "Star Track" Project action research is aimed to attract Special Needs Students (SNS) to be involved in sports activities and improved their interpersonal skills by engaging in sports activities actively. This study was carried out due to the fact several SNSs in SMK Kampong Soeharto, have little interest in participating in sports activities and there are SNS who are still weak in their interpersonal skills. The main objective of the study was to identify the main reason of SNS's non -involvement in sports activities and why it is difficult for them to master the interpersonal skills. Therefore, "Star Track" Project is implemented to address the issues. A total of 5 special needs student with learning difficulties, 2 boys and 3 girls have been identified, to involved in this research. The method used to identify the problems was initial observation and then followed by questionnaires and interviews to collect data. Through the questionnaire analysis data findings out that the main factors of SNS are not interested in sports activities is less exposure to the sport environment. Second factor is less encouragement from the parents and the next factor is the SNS consider there are not talented in sport. The results of the interview session also found that poor interpersonal skills are due to communication problems, inflexibility to adapt and lack of self -confidence. Through the analysis, the Star Track Project was carried out to solve the problem. Based on the analysis of data from the implementation of actions, has shown a positive change in students' interest in sports activities. And analysis of behavioral monitoring instruments showed SNS in the Star Trek Project had successfully improved their interpersonal skills. Hopefully, the "Star Track" Project can help further increase SNS involvement in sports activities as well as improve other skills.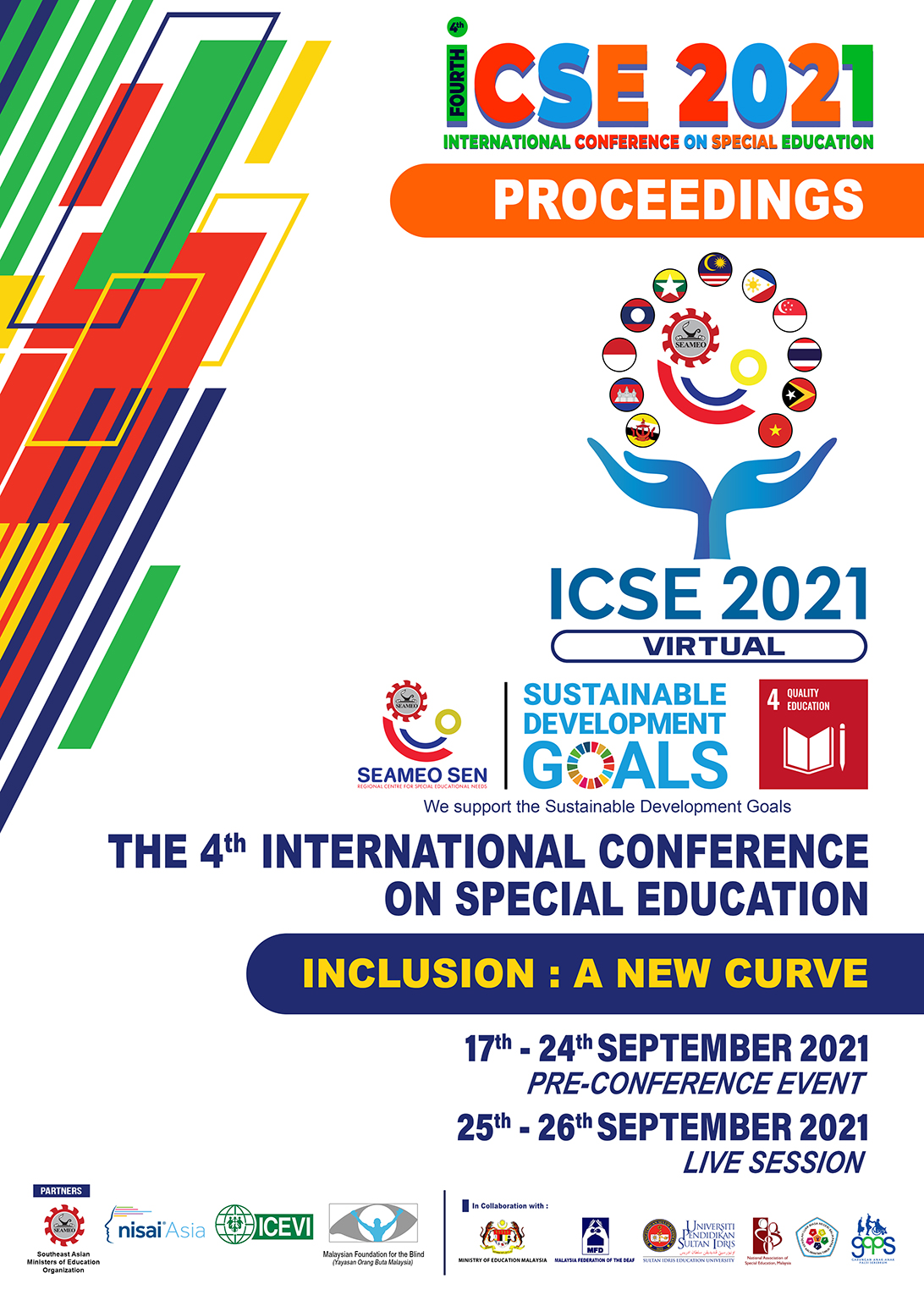 Downloads
How to Cite
Nurul Huda binti Zulkifli. (2021). "STAR TRACK" PROJECT: ATTRACTING SPECIAL NEEDS STUDENTS TO ENGAGE IN SPORTS ACTIVITIES AND IMPROVING THE INTERPERSONAL SKILLS THROUGH SPORTS ACTIVITIES. Proceedings of International Conference on Special Education, 4. Retrieved from https://publication.seameosen.edu.my/index.php/icse/article/view/240
License