EXPLORING THE LIVED EXPERIENCES OF PARENTS HAVING LEARNERS WITH SPECIAL EDUCATIONAL NEEDS IN THE NEW NORMAL EDUCATION
Keywords:
Parents, Learners with Special Educational Needs, New Normal
Abstract
The objective of this study was to find out the lived experiences of the parents of Learners with Special Educational Needs (LSEN's). This study employed a qualitative research design specifically a phenomenological approach. The sample of this study was conducted among the thirty (30) parents of the Learners with Special Educational Needs (LSEN's) of Malalag Central Elementary School-SPED Center. The investigator used Moustakas (1994) modification of the Stevic-Collazzi-Keen method of analysis to analyze the phenomenological data. The findings show that the parents' capacity to teach has been delimited due to several factors and that clearly implies for the need for immediate and strategic intervention. These include learning materials, resources, and assistive technologies. The contact time is also proved to be pivotal however it cannot be denied that the participants have other things to do like attending to their works and jobs that the bear on their shoulders. Moreover, the provision of skills and trainings are needed taking into consideration as well the strengthening of the emotional and psychological stability of the parents. These findings could serve as a basis to create parents and teachers partnership school program to strengthen the learning continuity of Learners with Special Educational Needs (LSENs) concerning the new normal education in the time of the COVID-19 pandemic.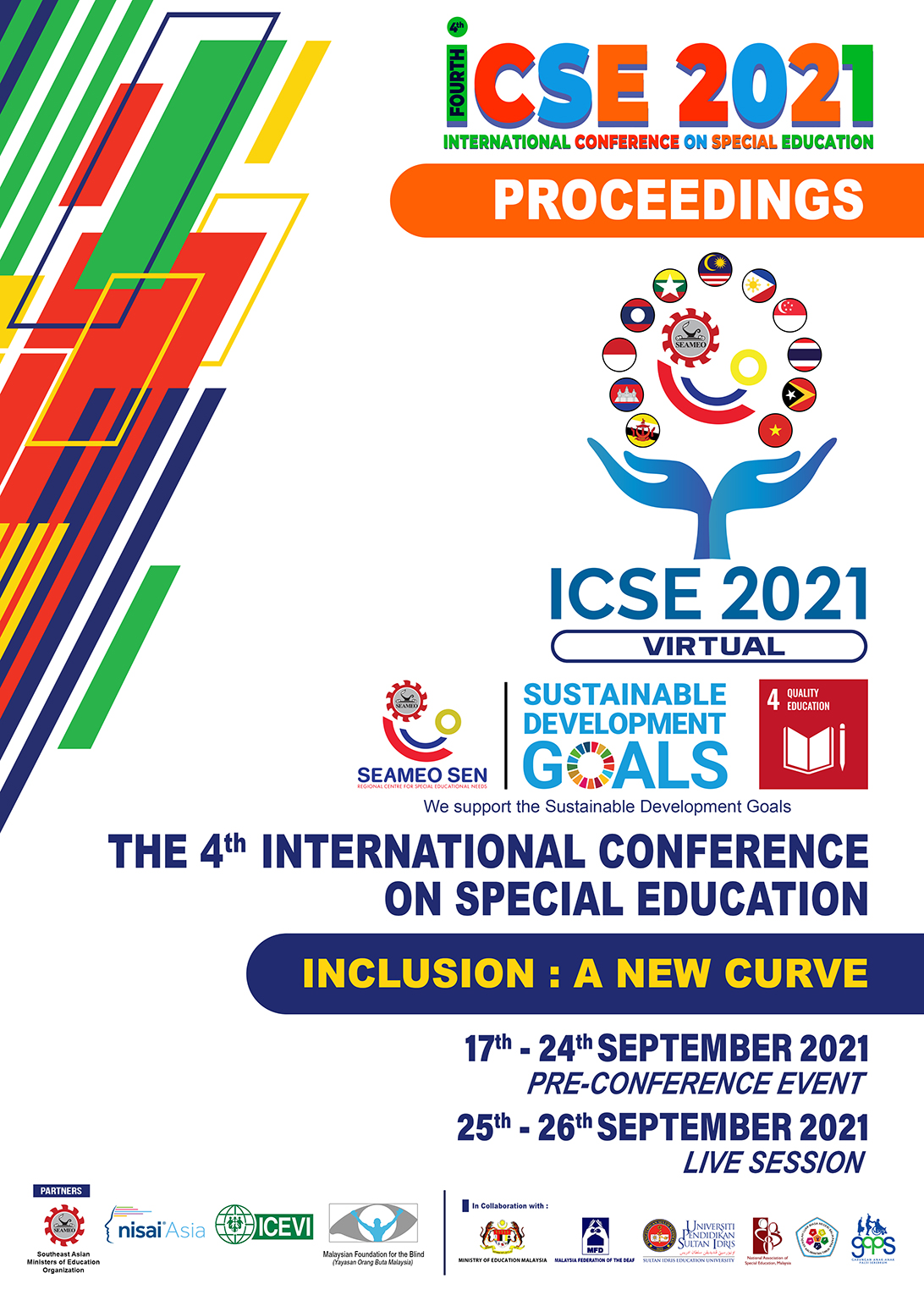 Downloads
How to Cite
Jake P. Villanueva M.A., Julie Vie C. Villanueva, & Ryan L. Jacob. (2021). EXPLORING THE LIVED EXPERIENCES OF PARENTS HAVING LEARNERS WITH SPECIAL EDUCATIONAL NEEDS IN THE NEW NORMAL EDUCATION. Proceedings of International Conference on Special Education, 4. Retrieved from https://publication.seameosen.edu.my/index.php/icse/article/view/251
License