SPECIAL CHEF CORNER PROGRAMME: A JOB SKILLS TRAINING PRACTICE AS A PREPARATION FOR CAREER TRANSITION PROGRAMME
Keywords:
Students with Special Needs, Job Skills Training, Career Transition Programme, Advocacy, Kaizen Approach, Observe-Plan–Do–Check–Adjust (OPDCA) Cycle
Abstract
This study was conducted to discuss the implementation of Job Skills Training (JST) activities for Special Needs Students (SNS) in Special Education Integration Programme (SEIP), Bandar Sungai Buaya Secondary School. Information and research data were obtained through mixed methods (qualitative and quantitative) with 2 existing SEIP teachers, school administrators and also the school canteen operators to identify issues and problems that cause JST activities to stop. The findings show that the purpose of the implementation of this JST needs to be explained to the relevant parties. Implementation methods and procedures also need to be improved. The Kaizen approach is used. Following that, SNS SEIP Bandar Sungai Buaya Secondary School has implemented a Special Chef Corner Programme which involved 3 teachers, 13 SNSs during break time and 4 SNSs in the afternoon. The implementation of Special Chef Corner Programme has been carried well in 2018 and 2019. SEIP students are also more confident, cheerful and able to socialize well. This programme has indirectly provided services to Form 3 and Form 5 students who need to attend extra classes in the afternoon. The idea of this Special Chef Corner Programme successfully improved the implementation of JST activities and was further effective in resolving the challenges of SNS's preparation for the Career Transition Programme.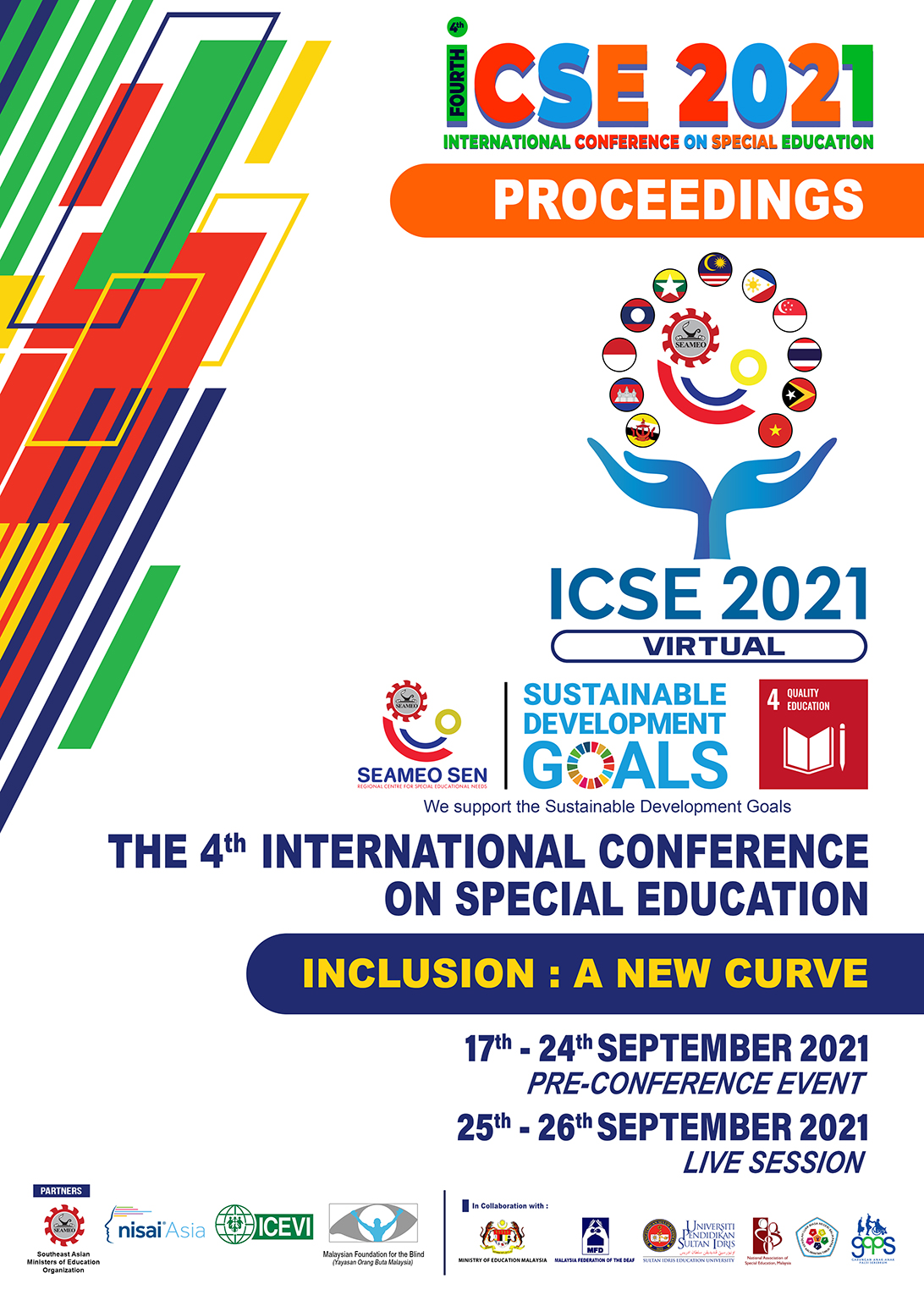 Downloads
How to Cite
Ilmiah binti Tumian, Sujatha A/P Veeriah, & Norfarhana binti Johari. (2021). SPECIAL CHEF CORNER PROGRAMME: A JOB SKILLS TRAINING PRACTICE AS A PREPARATION FOR CAREER TRANSITION PROGRAMME. Proceedings of International Conference on Special Education, 4. Retrieved from https://publication.seameosen.edu.my/index.php/icse/article/view/257
License