EFFECTIVENESS OF BANKNOTES BIG BOOK TOWARDS LEARNING MATHEMATICS FOR STUDENTS IN SPECIAL EDUCATION PROGRAM
Keywords:
Malaysian banknotes, teaching aids, mathematics, special education, money
Abstract
It is found that a large number of students in special education program in Malaysia struggled in recognising and using money in their daily life. Medical issues such as cerebral palsy, ADHD and others have a large impact to the educational development of these children. The researchers as teachers have found out that children are more responsive to colour, shapes and games. Hence, Big Book - Wang Kertas Malaysia is a teaching aid produced by the researchers to overcome the issue of unable to identify and use money from the value of MYR1 to MYR100 for students in special education program at Sekolah Kebangsaan Bukit Beruntung, Rawang, Selangor. This study was conducted quantitatively to collect the required data through worksheets, pre-tests and post-tests. The researcher conducted a survey involving a total of 30 students from special education class who study Mathematics using traditional learning strategies such as textbooks and exercise sheets in the topic of Money. After that, the same learning topic was taught with the addition of Big Book – Malaysian Banknotes. Before the intervention using the Big Book, these students are slow in learning and unable to pick up the lessons taught to them. However, after the inclusion of Big Book in their learning program, the findings of the study showed that 70% of Special Education students with Learning Disabilities are able to master the skills taught. They are also able to apply the concepts of Mathematics in daily life. The use of teaching aids Big Book - Malaysian Banknotes is expected to benefit students with special learning needs.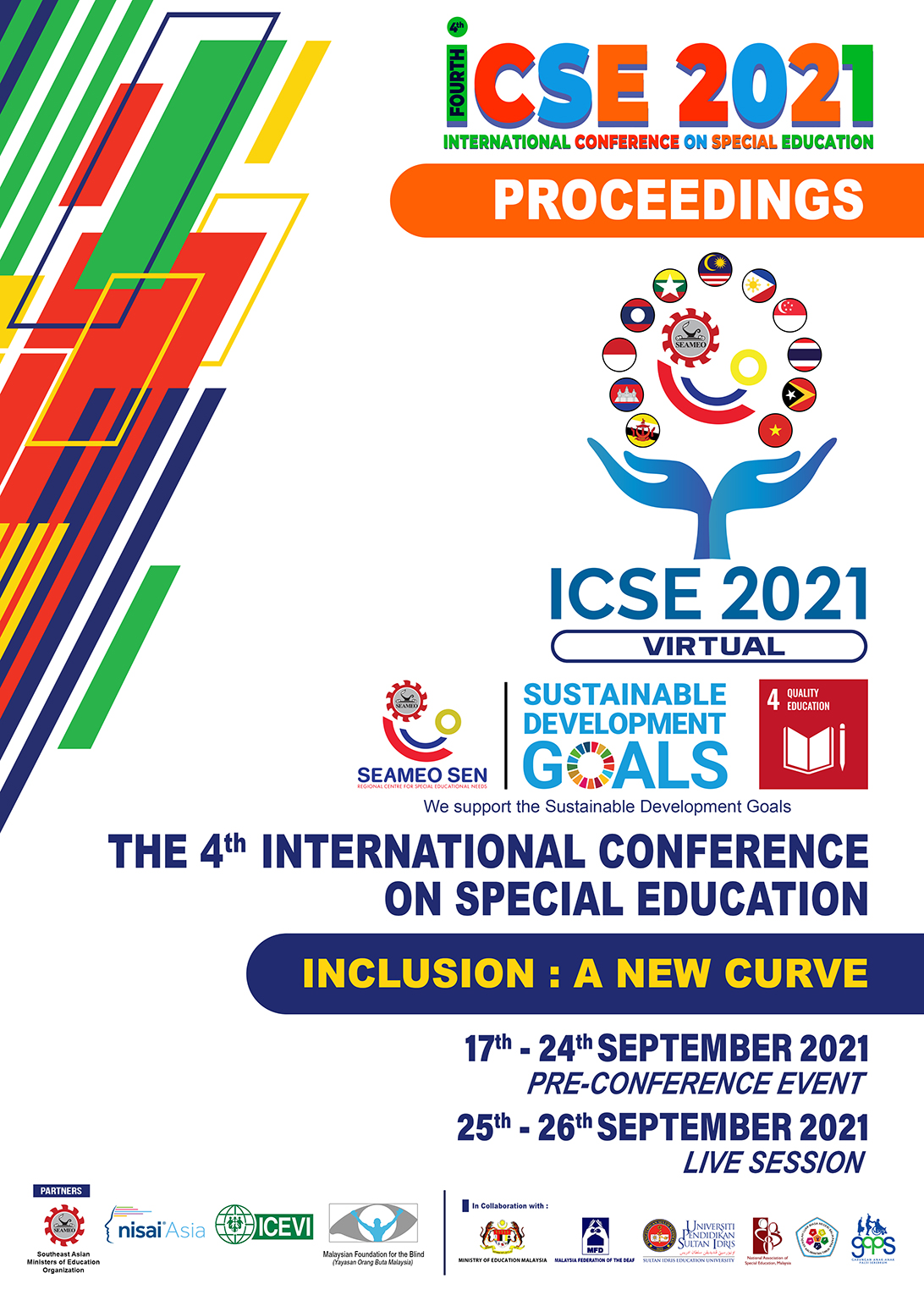 Downloads
How to Cite
Fhaziatul Hanom binti Ibarhim, & Muhammad Fahmi Faiz bin Mohd Rosli. (2021). EFFECTIVENESS OF BANKNOTES BIG BOOK TOWARDS LEARNING MATHEMATICS FOR STUDENTS IN SPECIAL EDUCATION PROGRAM. Proceedings of International Conference on Special Education, 4. Retrieved from https://publication.seameosen.edu.my/index.php/icse/article/view/266
License