IMPROVING THE SKILL OF RECOGNISING CAPITAL LETTERS ALPHABET A TO Z FOR SLOW LEARNER PUPILS BY USING "KOTAK TEROKA ABC"
Keywords:
Kotak Teroka ABC, slow learner, recognise capital letters for alphabet A to Z
Abstract
This action research is the result of the researcher's awareness to improve teaching and facilitation methods (PdPc) based on the difficulties encountered by Special Education pupils (Learning Problems) in mastering the recognition of capital letters for alphabet A to Z using "Kotak Teroka ABC". This study involved Year 6 Special Education pupils with moderate functional learning problems (slow learner) as an intervention tool used in Kuala Kubu Bharu School. There are two problems identified amongst the pupils in this study, namely the skill of recognising capital letters and the problem of attention span. This "Kotak Teroka ABC" emphasizes visual and tactile methods as well as learning methods while playing. Various themes and storytelling are applied in the "Kotak Teroka ABC" to attract pupils in improving their recognising capital letters. This study uses a combination of qualitative and quantitative methods through observation, pre-post test and document analysis. The results showed improvement in literacy skills, which is to recognise capital letters A to Z by using "Kotak Teroka ABC. In addition, pupils showed a positive attitude and increased concentration level. "Kotak Teroka ABC" can be modified and manipulated by substituting the capital letters with small letters as well as with numbers ranging 1 to 20. "Kotak Teroka ABC" can also can be tested on pupils with other types of learning problems and improved in the form of applications in line with the transformation of digital world towards using technology in 21st century learning. Therefore, Special Education teachers should be mindful of this fact and take action to improve the basic skills of 3M, especially recognising capital letters for alphabet A to Z among Special Education pupils with learning difficulties.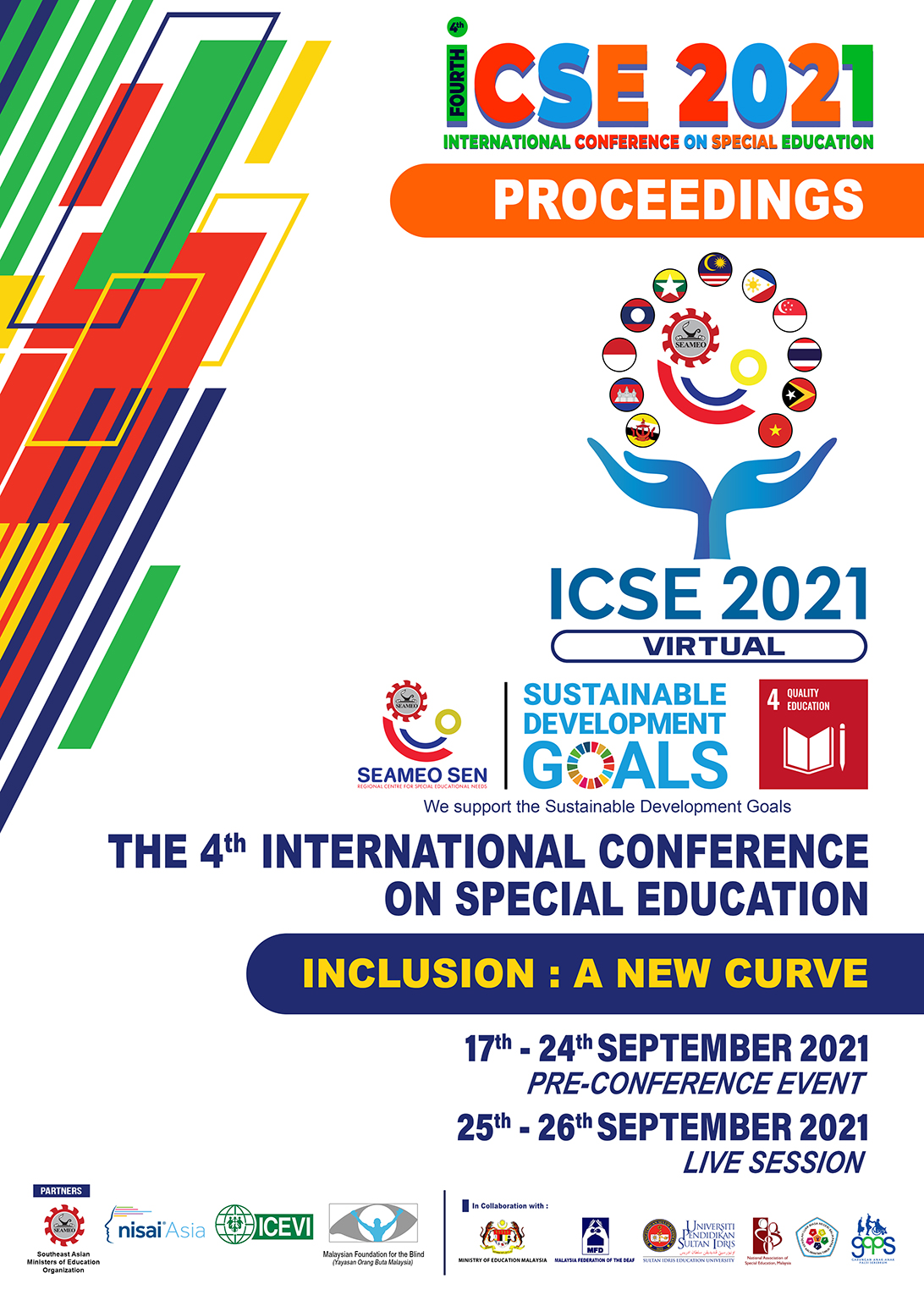 Downloads
How to Cite
Nor Shahirah Afiqah binti Mat Shater. (2021). IMPROVING THE SKILL OF RECOGNISING CAPITAL LETTERS ALPHABET A TO Z FOR SLOW LEARNER PUPILS BY USING "KOTAK TEROKA ABC". Proceedings of International Conference on Special Education, 4. Retrieved from https://publication.seameosen.edu.my/index.php/icse/article/view/267
License